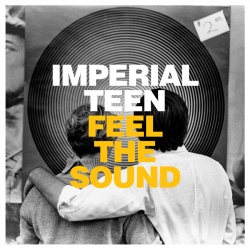 Feel the Sound being released in the UK on June 10, 2013 by MERGE Records!
Beginning June 10, Imperial Teen's Feel the Sound will be available on CD, LP and digital viaMerge Records in the UK and Europe. Will, Jone, Lynn & Roddy will play a couple of shows in England as well as their previously announced visits to Denver, San Francisco and Los Angeles this spring.
Like the sharpest pop music, Feel the Sound gets you to keep coming back for more, but unlike so much music today, it rewards you for doing so, giving you the experience of a fulfilled and yet still yearning, lively potential, one that will be further realized when the songs are performed live. SPIN deemed Imperial Teen, "eternally joyous indie-pop savants" while Magnet described Feel the Sound as "an LP full of energy and warmth, and the group's symphonic pop sound is still as fresh as its debut in the '90s."
So many bands lose momentum and focus over time, but a little past its sweet sixteenth year of existence, Roddy Bottum, Lynn Perko Truell, Will Schwartz, and Jone Stebbins somehow grow both younger and wiser, connecting four characterful lives through creative friendship and deep trust, and forging a communal power that continues to grow stronger.
Imperial Teen on tour:
Apr 27 Denver, CO Hi Dive
May 24 San Francisco, CA Bottom of the Hill
May 25 Los Angeles, CA The Satellite
June 16 Isle of Wight, UK Isle of Wight Festival
June 18 London, UK The Borderline