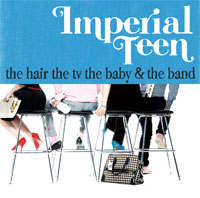 the hair the tv the baby & the band: REVIEWS

NPR > SONG OF THE DAY :
By Michael Katzif

In a summer full of recent reunions by the likes of Meat Puppets, Crowded House, The Police and The Spice Girls, Imperial Teen has also regrouped after a five-year gap. Often, a hiatus can change the group dynamic or cause a wild reinvention to modernize the core sound that fans grew to love. But judging by The Hair, the TV, the Baby and the Band, the San Francisco band sounds fresh and inspired, picking up where it left off with a collection of crisp three-minute pop songs.
Since the mid-'90s, Imperial Teen has been known for its blend of garage-rock, new-wave and shimmering pop-punk. "Do It Better" follows that formula to perfection: Awash in jangly guitars, warm synths and a straight-ahead danceable pulse, the music is plenty infectious. From the rhythmic single-note guitar phrase to the simple vocals, repetition functions as a key ingredient in its own right.
While the chorus brims over with soaring hooks, the words reveal a somber undertone of longing and regret. As a deeper meaning surfaces beneath the energetic melodies — "Made a fortune and now it's gone / I held on to it too long" — it's clear that "Do It Better" functions as more than just a glossy, road-trip-friendly pop gem.
---
ROLLING STONE : 8/23/07
By Robert Christgau

Californian indie geniuses keep the flame burning on fourth album.

So about that title. Hair: Jone Stebbins tours with her styling scissors. TV: Roddy Bottum scored the defunct ABC series Help Me Help You. Baby: Lynn Truell, nee Perko, is pregnant in her booklet photo. Which leaves Will Schwartz as the band, still harboring dreams that these veteran art-pop up-and-comers will someday be remunerative as well as catchy. Catchy they remain on their belated fourth album -- also bright, dynamic, tender, brainy, unpretentious and civilly pansexual. But after barely playing out in five years, are they a band on the strength of a written-from-memory title tune about touring's frantic rush? Or of "Room With a View," about a rehearsal space where you can pretend you're "twenty for life"? Or of "Fallen Idol," in which Schwartz complains or admits, "Since I've gone solo/We've hit a new low"? That low is pretty high. But nobody can pretend to be twenty forever.

---
ALL MUSIC :

[Picks Of The Week on All Music Guide¹s New Release Newsletter]

After 2002's low-key pop masterpiece On, the members of Imperial Teen took some time -- five years, to be exact -- to focus on other projects. These included a hairstyling business, writing music for TV, pregnancy and another group, and provided the title for 2007's even more laid-back The Hair the TV the Baby the Band. The time off did the band good: This album is just as smart and catchy as the band's previous albums, despite its mellow veneer.

By Heather Phares
Imperial Teen's approach hasn't changed much since 2002's On -- or their debut Seasick, for that matter -- but The Hair the TV the Baby & the Band's kaleidoscopic indie pop finds them fitting into the musical landscape of the late 2000s easily. Kindred spirits such as the New Pornographers and the Brunettes have a similar flair for throwing together '60s pop, bubblegum hooks and harmonies, and slyly subversive, chugging cool descended from the Velvet Underground, but Imperial Teen have a breezy, almost blasé, way of making their words and music seem effortless. And though the album has its fair share of songs that sound like stylish, smart, but lulling background music on first listen, The Hair the TV the Baby & the Band reveals its catchiness gradually; tracks like "One Two" and "It's Now" manage the neat trick of being peppy and mellow at the same time. Even when Imperial Teen bust out the rock, as on the sassy, "hair-hoppin'" "Sweet Potato," the band does it with a unique restraint. This subtlety, and the band's fluent reinvention of pop's past, are the biggest signs that Imperial Teen are a group in their second decade. Just because this album is the work of a mature band doesn't mean that it's stodgy: "Shim Sham" could be from an older and wiser B-52's (but not too old or wise to cut a rug). "The Hair the TV the Baby & the Band," which recounts how Imperial Teen's members spent their hiatuses, plays like the Archies entering their midlife crises. The band gets even more archival on tracks like "I Love Everything," a wry homage to Phil Spector's Wall of Sound, and the excellent "Fallen Idol," a piece of meta-pop that bobs along on jaunty pianos borrowed from the collected works of Elton John, Paul McCartney, and Al Stewart. "Do It Better," which could've easily appeared on Seasick, and "21st Century," a collage of pretty melodies, artfully splattered guitars, and nostalgia for what used to be the future, dig into the more recent past (likewise, Anna Waronker and Steve McDonald's co-production credits will give fans of '90s alt-pop and power pop a warm, fuzzy flashback). Taking a five-year break would be career suicide for a lot of bands, but Imperial Teen's extended vacation was a risk that paid off: The Hair the TV the Baby & the Band is a grower full of grown-up pop.
---
TRIPWIRE :
By Jason Anfinsen

When Faith No More became no more in 1998, well after that famous fish stopped flapping, FNM keyboardist Roddy Bottum had as much use for the San Francisco freak-rock-metal-funk-experiment as a box of Rice-A-Roni. Bottum's role in the band became less significant as time wore on, and even though he drudged through various shit storms and stuck like a champ until the band's ultimate demise, faith in his old bay area mates was anything but devout.
During the mid-90s, along with drummer of The Dicks Lynn Truell, Bottum formed the breezy cheery feel good about your face pop outfit Imperial Teen, whose debut album Seasick was produced by Redd Kross crazypants Steve McDonald, and became the 4th best album of 1996 according to Spin Magazine at a time when people actually read Spin Magazine.
In 1999, their gleeful rush of charm landed on the Jawbreaker movie soundtrack which then lead to opening slots for such weirdo acts as Hole and Marilyn Manson. After Universal Records bit a significant chunk out of the necks of everyone in the early 2000s, Imperial Teen eventually found sanctuary on Merge, who in 2002 would release the band's third animated hurrah, On.
Powered by a landslide of disarming jubilance, The Hair The TV The Baby And The Band, slated for an August 21st release on Merge, is a praiseworthy assortment of candies, lollipops, and everlasting gobstoppers full of sweet sweet pop that would make any dentist cringe in horror.
"Shim Sham" is one of the sexiest numbers on this collection of twelve, shining with a fervid luster like Veruca Salt, Velocity Girl or That Dog might have done in the mid-90s when their names meant something, to anyone. "One Two" and "Sweet Potato" are gut punch workouts that should be blasted into school cafeterias across the country, providing our lil fatso leaders of tomorrow with some much needed exercise. "Room With A View," the album's longest prick which pokes for close to four-minutes, is an ingratiating hum of pleasure that reflects the graceful experience of this zestful outfit. The tepid closer "Do What You Do" is similar to a smooth Belle And Sebastian stroke of breathtaking mastery.
The fulgent feel one gets when fingering The Hair The TV The Baby And The Band is quite exhilarating, like a quick brush against an attractive stranger in a crowded stairwell. As your body gently scrapes against theirs, you feel something that immediately ignites the junk in your dormant trunk and before you can turn around to track down your new found love, its gone and lost forever.
Although Bottum is openly gay and his band, from San Francisco of all places, have been labeled a queer-pop quartet by those who find labels necessary, Imperial Teen have created a universally delightful piece of audio here that will easily cross over the cross gender lines of altered sexuality for the satisfaction of every ass on god's good planet. The debonair vocals and picturesque melodies are quite addictive, soft and gentle like a cool midnight kiss or as flesh melting as the stringent summer sun.

---
RETRO LOWFI.com :
By Nicole

Sweet Jesus, this album is so much fun. It's so nice to have more from Imperial Teen.
It's been about five years since we last heard from the brassy power-poppers. Five years might not seem like a terribly long time, but upon first listen to this record, you'll realize just how much you've missed this band. What's more, the five-year gap hasn't cooled Imperial Teen's signature combination of glowing synth, jangly guitars, panting vocals, sweet harmonies, and garage rock. Not in the slightest. No question, The Hair The TV The Baby & The Band is the epitome of living room dance party.
"Everything" kicks the album off to a glorgious start, listing off things that make life both blissful and horrific and loving every bit of it; exuberance absolutely explodes here. The first single "Shim Sham" is easily one of the best tracks of the record, although making that distinction is difficult, as the album is one giant balloon of blossoming pop goodness. "Fallen Idol" is perhaps one of the sunniest songs of all time. The ridiculously sexy "Sweet Potato" seems like a lost B-52s track — that, of course, is a compliment. Even the band's softer moments, such as "What You Do," coo with way more energy than you'd think it would.
Nonetheless, the songs here are more than glitter. Beneath these tracks are songs that dream of youth. While, yes, "Shim Sham" loves the idea of being carefree, it's also nostalgic, as the members of Imperial Teen are all approaching middle age. "Room With a View" laments not being able to be "twenty for life." What makes this juxtaposition work is that Imperial Teen doesn't sound like they're ignoring their stage in life. Instead, they push forward, ever entralled for what's to come (see "It's Now"). The period between The Hair and the band's stellar 2002 album On may have given Imperial Teen some growing up time (just take a look at the title), but on The Hair, the band sure as hell doesn't seem like it's getting older.
Simply said, this album cannot be recommended enough. So many catchy hooks, breathy harmonies, and more sass than is healthy for anyone. It's as good, if not better, than anything they've ever done. The Hair The TV The Baby & The Band should be acquired with astounding speed and obstinacy!
---
AUSTIN CHRONICLE :
By Raoul Hernandez

This is the sound of a band with nothing to lose. Four bosom buddies and their trusted George Martin behind the boards, Redd Kross medic Steve McDonald, making aural joy because their chemistry is perfect. Shinsian popsters rejoice. Here's another dreamsicle caked with sugar sugar. The San Francisco quartet's fourth LP bursts out of the chute on a pounding piano beat and the group's deadly, almond-scented boy/girl/boy/girl harmonies. Will Schwartz, Lynn Truell, Roddy Bottum, and Jone Stebbins then reel off one hook after another. The sleek bop of "Do It Better" dances like the Sixties cola commercial you'll never forget. "Shim Sham" is straight out of the B-52's "Love Shack." Bottum tap dancing through the title track: reality MTV. Schwartz's needling, head-thumping "It's Now" pushes as insistent as a full bladder. "Fallen Idol"? Kinks' pastoral tea time, sunny Sunday afternoon. More Ray Davies awaits on the fawning "Everyone Wants to Know." Even filler on the order of rock-up "One Two" gets perfectly sequenced, while the twee "Room With a View" unspools about as exciting as the film of the same name. Then, hopscotching "Sweet Potato" mashes all. Listen to Schwartz rattle off the line "finger-lickin gum-smackin sass-talking you know what" as the other three bleat out "sweet potato, oh sweet potato." Spit it, Will: "Hair-hoppin flip-floppin Candy's kicking up the dust." With a touch of grunge fatten, it's two minutes 26 seconds! Best club single since the Gorillaz's "Feel Good Inc." Racing spokes on "21st Century" ("It's Armageddon, it's Armageddon") might as well be laced with crystal meth. Bottum's pensive closer, "What You Do," chocks up another sad smiley face. A dozen songs in 38 minutes, same as Imperial Teen's Nineties-defining debut, Seasick. Equally sick, The Hair the TV the Baby & the Band.

---
MYSPACE NEWS :
Imperial Teen are a just a couple weeks away from their fourth album The Hair The TV The Baby & The Band. It's their first album since 2002's On -- yup, more than half a decade is quite a pause (you can get a degree faster … maybe). The four Californians are further from the wonder years, but the playful first single "Shim Sham" doesn't suggest any cobwebs or rust. Still, there is an awareness of time's passage: Google and some biographical facts make it clear the album title references work (Jone Stebbins owns a hairstyling joint (I do not own the salon, I just work there- jone), while the excellently named Roddy Bottum's does scores for TV), life (Lynn Perko Truell's a mom) and Will Schwartz's side project willpower, but more deeply, the comma-free list also connotes watching TV and the babies and feeling your hair fall out.
There've been plent of other bands, too … Imperial Teens have variously played in Faith No More, Sister Double Happiness, the Dicks, the Wrecks, etc. So yeah, "Shim Sham" is a nostalgic summer fete, as Lynn intones, "at the Shim Sham Club" with the Rock*A*Teens. The fuzzy guitar, popping drums, and crystalline Breeders-style male/female harmonies shout celebration (the B-52's with more kick), but it also feels historical, a first-person story recalled beneath "suburban lights." The narrative involves a life in punk rock (chilling in "dirty places," making lifelong friends); "Then and now seems like a different scene / We live to live whatever's meant to be…" It's fitting that the percussion shuffles like Steve Shelley in that first measure: Imperial Teen have accrued the same sort of wise distance and scope that Sonic Youth have taken on in their more silver years.

---
TRANSFORM ONLINE :
By Dim

Brilliant minimalistic indie pop.

It's been over five years since the last Imperial Teen record. If you spent the time off wondering if Roddy Bottum was going to return triumphantly to the sound he helped forge in the sinister and seminal Faith No More instead of crafting ridiculously catchy pop, the answer, plainly revealed in the taut 38 minutes of The Hair the TV the Baby & the Band, is a resounding "no fucking way." And that's just fine and dandy.
The album's title reflects what the four members of the band have been focusing on during their hiatus. And while their outside interests might be disparate, their collective goal of creating minimalistic indie pop is a constant. And it comes through brilliantly in this effort.
Immediately, the listener's focus is on the dynamic interplay of vocals between the male half of the band (Bottum and Will Schwartz, who also share guitar duties) and the female half (Lynne Truell on drums and Jone Stebbins on bass). While the songs are tight and well-written, they could only be pulled off with the proper vocals and the arrangement here by Imperial Teen really brings out the best in these tracks.
Opener "Everything" starts everything off in a head-bobbing fashion and contains such amazing pop sensibilities, Carl Newman's ears probably perked up all the way from Vancouver while I was listening to it. And while the band won't be sharing the pages of Guitar Player with Yngwie Malmsteen and Dream Theatre anytime soon, they can take solace in their ability to make a fun, albeit austere, record.
The sparse guitar leads that are especially noticeable on "Do it Better," but appear throughout, call to mind Carrie Brownstein and some of Sleater-Kinney's more mid-tempo tunes. But make no mistake, just because this could be classified as "indie" and "low-fi" does not mean there is a lack of attention to melody. Quite the contrary.
"Shim Sham" is so bratty and delightful, you'll probably find yourself singing background vocals during the ebola-like infectious and fuzzed-out chorus. And while "One Two" makes you realize that the songs here have a very similar structure and sound, you don't mind so much because the hooks are so powerful and catchiness is so unavoidable.
As the disc flies by, you are greeted with the bouncing "Sweet Potato" – which is almost anachronistic in its '60s glory – and the ultra-smooth "Fallen Idol," which manages to reference both the Unibomber and Jeffrey Dahmer among the breathy girly sighs.
Ballads like "Room With a View" and closer "What You Do" are admittedly a bit of a buzzkill from the party groove so overtly flaunted here, but they are executed so pristinely that you give this talented quartet a pass.
If you think The New Pornographers just have too much stuff going on, give Imperial Teen a spin. And if you think The New Pornographers sound just great to your ears the way they are, take a listen to this disc anyway. You might be surprised at how much Imperial Teen do with relatively little.
---
LOST AT SEA :
By Dan Weiss

You know those records that are generally well recieved, critically, because no one can think of anything immediately offensive about them? The new Clap Your Hands Say Yeah, Luna's whole catalogue, or Imperial Teen's own On, from back in 2002, for instance. Let's not allow The Hair The TV The Baby And The Band to be one of those. So consistently unhip that they're lucky to still find themselves alternating two chords to an audience in 2007 (we'll see), Imperial Teen have again made one of the best records of the year and again it is one likely doomed to a slew of three stars ratings and 6 out of 10/B+ reviews that don't quite convince anyone to think twice about it. This is my one shot at amending that.
Imperial Teen are currently in the unenviable position of following up the best album of their lives, and it doesn't help that they've spent five years building suspense. "The best/Is a curse," sang Roddy Bottum near the end of On, a curiously self-aware epilogue to a record they probably knew was some next-level shit. If it's not off the mark to suggest they got nervous, the new "Do It Better," picks up where the "curse" left off: "Got a watch that's made of gold/ but I think it's getting old." It would be pretty awesome to see the decade-on quartet addressing the quibbly culture of rock critics ("Think you like to disagree") and throwing a gauntlet down ("Show me how you do it better") but they're too damn sweet for that. "Do It Better" turns out to be an admiration plea ("I like the way you dress/ I like the way you kiss," etc.) that stops just short of being a love song with all that doubtful build up: "I like the way you make me cry." And it's no easier to discern a lurking sadness when the song is as catchy as "Walking on Sunshine," all summery guitar fills and butt-simple chord changes.
Such complex tone-fuckery is nothing new for these guys, who were calling out slutty brides and kissass teacher's pets while Panic! At the Disco were still begging for summer jobs at Hot Topic. In five years, the sarcasm has waned a bit, but nothing's compromised their trance-pop melodies, which are solid as ever. Pulling back from On's serrated edge, they do away with the buzzing synths and locker-gossip putdowns like "Like a dried up pot of glue/ she only sticks when she is wet," (meow!). In favor of what, you ask? Well the title clues are four alternatives to this career, from Jone Stebbins' dotcom-certified hairdressing business to Lynn Truell's new motherhood, so post-rock 'n roll maturity isn't out of the question.
The fun part being that it's not "post" at all; "One Two" rocks as hard as anything on What Is Not To Love, their darkest, kinda Sonic Youth-sounding album, and the irresistible "Shim Sham" is just as reliable for clap and pogo madness as 2002's "Baby." I'd love to hear more hooks like "So pretty! So pretty! So pretty! Oh oh oh oh!" this summer, but it won't be a shame if no one else manages. Now besotted with prog, The New Pornographers' new album isn't gonna have anything as rousing as "21st Century," or anything as lovely as the Yo La Tengo homage, "What They Do." On's laser keyboards make a brief, welcome resurgence on the nonsensical "Sweet Potato," and the piano-plunker "Room With A View" echoes their previous mini-classic "Our Time," updating it with downright euphoric moan-harmonies in the chorus, extended to the bridge for maximum pleasure. The only true surprise is a fluttery falsetto chorus from Bottum on the McCartneyesque "Fallen Idol," which irritates on first listen only because it's so jarring; it interrupts the string of expectedness. Third time around, you'll sing along like on all the others, or Merge should offer a money-back guarantee.
When is the last time an alt-pop record was this blissfully uncomplicated - prime That Dog? Well, it is their second straight album (and second straight masterpiece) produced by that outfit's sadly forgotten mistress of harmonies, Anna Waronker, and her hubby Steve McDonald (ex-Redd Kross). I can't say Imperial Teen is any likelier to find an audience in the Architecture in Helsinki/Sufjan Stevens orchestral-indie niche, though Yo La Tengo fans will definitely feel IT's Velvets-perfected 4/4 pound. But give these criminally ignored popmasters their due so they don't have to run off to the plan B lives they threaten. Give them a chance to show you how they do it better.

---
IMPOSE MAGAZINE :
By Tina Lin
All day long, I've been humming the same bar of music. My friends' patience is sorely tried by this repetition, or perhaps more accurately, by my singing. My inability to stay in key is just one of the many reasons why I usually refrain from any attempts at vocal performances, but it would seem that my defenses have been broken down. For the past few days, I've been listening to The Hair, The TV, The Baby and The Band. It has proved to be infectious. The melody burrowed its way into my consciousness, gnawing at me until my usual public singing stoicism gave way to random bursts of ill-advised exhibition. And for that, I have Imperial Teen to blame. But this isn't about me; this is about the band that's ruining my reputation.
Imperial Teen achieved brief success in the late 90s with their debut album Seasick. Their songs were featured on alternative radios and to the soundtrack of Jawbreaker. Then they disappeared. The Hair, The TV, The Baby and The Band is Imperial Teen's first release in five years. Undeniably fun, the album seems to be daring people to tap their toes and sing along, even the sort of people who might usually consider themselves too reserved for this sort of frivolity. From the first moment lead singer Roddy Bottum (UPDATE: who shares vocal duties with lead singer Will Schwartz) counts off the jaunty opening track "Everything" to the fading of the last note of the obligatory closing ballad, Imperial Teen takes us through 40 minutes of relentlessly energetic melodies and the perfected art of the one-line chorus – and it is indeed an art form, however easily it is dismissed by a good deal of critics.
Although their verses are characterized by driven melodies, it is the choruses that are simple and easily recalled; these cheery hooks firmly dig in and stay with you whether you want them or not. Somehow, unlike most catchy pop choruses, these manage to stop short of becoming irritatingly tiresome.
Imperial Teen avoids banality by sensibly switching off the piano and the guitar as lead instruments. The songs on the album remain firmly within the realm of pop/rock, but it's a large and wide realm: the rollicking, energetic "One Two"; the piano-driven, calmly detached "Room With a View"; the soft and beguiling "Fallen Idol"; the electrifying and slightly quirky "Sweet Potato". Nearly every track warrants a mention and an attempt at capturing its feel with one or two adjectives, but that would be impractical. The subtle differences on individual tracks may invite comparisons to a range of other independent bands (Belle and Sebastian and The Brunettes come to mind), but it hardly seems fair to compare them to their own contemporaries, and in consideration of the overall album instead of individual tracks, perhaps not very accurate.
Instead, it would be more prudent to evaluate Imperial Teen on their own. However, be warned: should you feel the urge to start belting out the choruses, it'll be less embarrassing to do it away from large groups of people.
---
KITSAPSUN :
It's been half a decade, but the San Francisco quartet is finally back with another box of ear candy. Not much has changed in five years, but considering it was such a long layoff and the band has always had its own unique sound, that's not a bad thing in this case.

"The Hair the TV the Baby & the Band" is full of the bright bubblegum pop and fun, quirky lyrics Imperial Teen is known for. Even the more reflective "Room With a View" shines with simple-yet-effective piano, a buoyant rhythm and giddy harmonies, crashing symbols and bubbling guitar. And when the band amps it up on tracks like "Everything" and "One Two" it's a pure treat.

Imperial Teen may never have another radio hit like 1999's "Yoo Hoo," but that's probably the way their fans like it; keeping the band a not-so-well-kept secret. "The Hair ..." is a slightly more mature effort than the band's earlier work, substituting a little more polish for unbridled raw energy. As their fans age along with them, that's probably something they like as well.